I work on the literature and culture of the long nineteenth century, particularly the Victorian novel and its relationship to cultural and social life. More specifically, I'm interested in the work of narrative form, especially how it has shaped psychological and cultural theories of human identity and relationships. My current book project, ​Forming People, considers the role of the novel form in the development of modern psychology. This work on form is also at the center of my work on the Digital Dickens Notes Project, which explores Charles Dickens's working notes to demonstrate the serial unfolding of his novels and the dynamic networks of interaction between characters and readers--and between notes and novel--they facilitate. A second book project will examine how Victorian serial writers reconfigured our understanding of the relationship between narrative and time and the associations between storytelling and contemporaneity. You can read more about my current projects below.


---
Forming People: Psychology and Victorian Novel Form
My current book project argues that the Victorian novel reshaped the story of modern human psychology. Rethinking the now common association of the novel form with the production of a self-contained, self-governing modern individual, this project shows that the novel form deconstructed the form of the person it simultaneously helped to imagine into being. In chapters that chart the novel's bold experimentation with new ways of understanding human consciousness as sensory, multi-centered, and always changing in reaction to social, biological, and environmental stimuli, I show how novels by Charlotte Brontë, Charles Dickens, Wilkie Collins, George Eliot, and others imagined a process-oriented psychology even as they crafted characters with will and self-control. Through the formal dynamic of promising closure at the end while experimenting during a long middle with narrative tactics that counter that containment, the Victorian novel imagined the self as both contained and volatile, both stable and in process, both psychologically integrated and physiologically malleable. Investigating these seemingly contradictory capacities of Victorian novel form for representing human psychology, this study situates the novel at the center of a paradox in modernity's conception of the human person. ​

​

Investigating these seemingly contradictory capacities of Victorian novel form for representing human psychology, this study situates the novel at the center of a paradox in modernity's conception of the human person.

As psychology began to find its footing as a discipline in the second half of the century, one of its foundational problems was that objective knowledge of subjective experience appeared an impossible goal. In order to create a knowledge of human consciousness (a psychology

), procedures of external objective knowledge would need to interfere with the subjective processes of being, living, and experiencing the world as a person.

Forming People

argues that the Victorian novel was uniquely able to solve this impasse between subjective and objective ways of knowing the self by maximizing the dual capacities of form—as verb and as noun—to integrate both perspectives on human psychology. At the beginning of the Victorian era, the novel was already poised as a technology of formation and world-making to take up the task of experimenting with an increasingly complex and fractured human self in a teeming and expanding social world. Through its engagement with psychology, life sciences, and social sciences, I argue, the novel altered its formation of the people it called into being—character, narrator, even reader. This project interrogates this formal work and the theories of self it made possible.

"Character," the narrator of George Eliot's Middlemarch tells us, "is a process and an unfolding." Victorian novels experimented with and expanded the capacities of their own formation to imagine characters as ongoing sets of sensory and subjective processes, always changing and always resisting the reification imposed by mechanisms of objective knowledge. From composites of multiple first-person accounts to strange juxtapositions of omniscience and subjective feeling, from gaps and shifts in narrative to the extended form-in-process of the serial story, novels by Charlotte Brontë, Charles Dickens, Wilkie Collins, Mary Elizabeth Braddon, George Eliot, Robert Louis Stevenson, and Bram Stoker formally enacted the heterogeneity and instability of the characters they created. And in so doing they contributed to, experimented with, and reshaped for popular consumption theories of the person we find under discussion in scientific texts by George Combe, William Carpenter, George Henry Lewes, Charles Darwin, Henry Maudsley, and Francis Galton.

​

What made such experimentation in form and formation possible, I argue, was the novel's promise of closure, stasis, and unity: the promise of the novel's eventual form (as noun). With such inevitable closure came the expectation of a retrospective unity, an invitation to reader and critic to look back on the whole and understand the form of both character and novel objectively, from the distance of after or beyond the text. This study examines the interplay between these two operations of narrative form—processual formation and stable form—in both novels and in the people they create. It does so in order to show that the novel, by holding out the promise of form (n.) and its association with objective knowledge of the whole, was able to immerse readers in alternative and often resistant modes of formation (form as verb) that make space for experiments with flexible and fluid models of the human self. Both these novels and the characters they create are plastic forms, to borrow a term from Catherine Malabou's new materialist philosophy; they are malleable and have the capacity to create themselves anew as a novel unfolds.

SAMUEL WELLS, "SYMBOLICAL HEAD," How to read Character: A New Illustrated Handbook of Phrenology and Physiology (London: Vickers, 1860), p. 39.

---

Methodologically, then, this study asks for a dual attention to form—to the critical practice of understanding novel form as a unified whole with many parts and to the temporally expansive practices of reading the novel as an ongoing, punctuated, and evolving formation. It roots this dual attention to form and formation in the novels themselves. Each chapter considers how the novel creates both macro and micro perspectives—what Michel de Certeau has called strategy and tactics—to contrast a stable whole with plasticity and adaptability.

Forming People

privileges a reading practice that can simultaneously recognize the novel's movement towards stasis, unity, and objective knowledge, while at the same time illuminating the shifts and undercurrents, the acts and resistances, inherent in that movement. In recognizing these facets of novel form we can also recognize that there is a simultaneous formation of personhood taking place in the novel—that the conception of a person as a stable, knowable, permanent identity is always interrupted, undergirded, and created as a function of that person's heterogeneity, plasticity, and adaptability.

​

​

Chapters:

​

Introduction: Form and Formation
The First Person: Charlotte Brontë, Psychology, and Narrative Tactics
Serial Formation: Charles Dickens's Social Network
Sensation and Detection
George Eliot and William James: Experiments in Life
Epilogue: Incongruous Compounds: Jekyll, Hyde, and Dracula​

​

​

This book project builds on a dissertation that was generously supported by an

ACLS Mellon Dissertation Completion Fellowship

.
---
Digital Dickens Notes Project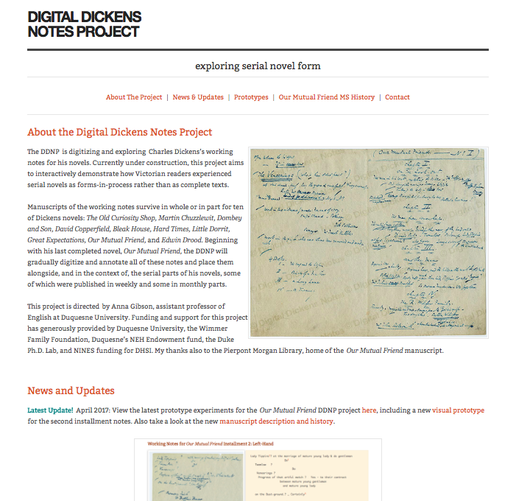 I am the director of the
Digital Dickens Notes Project
, which is in the early stages of digitizing and analyzing the working notes Charles Dickens kept for many of his serial novels. This interactive project will explore how Victorian readers experienced serial novels as forms-in-process rather than as complete texts. With support from
NINES (the Networked Infrastructure for Nineteenth-Century Electronic Scholarship)
, the
Duke Ph.D. Lab in Digital Knowledge
, Duquesne University's NEH Endowment Fund and Wimmer Family Foundation Grants, I am in the process of creating a prototype for this digital project.
The Digital Dickens Notes Project
will place digitized versions of Dickens's working notes alongside the serial installments of his novels (beginning with Our Mutual Friend) in order to demonstrate the formation of serial fiction and how it implicated the construction of character. This digital resource will encourage and facilitate a process-oriented Victorian mode of reading serially.
By exploring the serial unfolding of Victorian novels, and the dynamic network form of Dickens's novels in particular, this project offers an alternative to modes of "distant reading" often promoted by the Digital Humanities. Rather than treating a serial novel as a whole structure to be studied from the retrospection of after its conclusion, the DDNP seeks to help researchers and students experience and interpret the form-in-process of serial fiction. The
DDNP
will eventually incorporate all six of Dickens's novels for which complete sets of working notes exist, offering a unique interactive resource for researchers and for students learning about serial form.
---
Gibson, Anna. "Charlotte Brontë's First Person." Narrative 25.2 (2017): 203-226.
| | |
| --- | --- |
| ​​ABSTRACT: This essay reads Charlotte Brontë's use of first-person narration in Villette as a contribution to a Victorian reassessment of personal identity as material, heterogeneous, and adaptive. Challenging common readings of Brontë's first-person fictions as displays of self-definition and authority, I unpack the relationship between the narrated and narrating person in both Jane Eyre and Villette to reveal dual operations of narrative—world-making strategies and adaptive tactics—that express competing notions of personhood. By comparing Villette (1853) to Jane Eyre (1847), we can chart a shift from a strategic to a tactical emphasis in narration indicative, I argue, of a broader movement in nineteenth-century thought from Cartesian dualism toward associationist and materialist theories of consciousness as adaptive and processual. Villette's narrative tactics demonstrate the potential in novel form to enact processes of being in the world that challenge both traditional concepts of a unified, self-contained consciousness and new Victorian scientific conceptions of a material mind only knowable from science's "objective" perspective. Positioning Brontë's novel form alongside psychological debates about the nature and study of mind, I show how the novel offers alternative methodologies and conclusions about the nature of personhood to those proffered by an emerging Victorian psychology. When Brontë's first-person narrative produces (rather than assumes the prior presence of) a "person" narrating, it asks us to read that production of identity and consciousness as an experiment with what it means to experience oneself as, in the words of Jane Eyre, a "heterogeneous thing." | |
Gibson, Anna. "

Our Mutual Friend

and Network Form."

Novel: A Forum on Fiction

48.1 (2015): 63-84.

ABSTRACT: This essay demonstrates how Charles Dickens used the form of serial fiction to experiment with a uniquely Victorian idea of life as a dynamic network of interactions. Reading Our Mutual Friend alongside nineteenth-century physiological and evolutionary writing, I show how Dickens shaped novel form around the attractions and reactions that organized social and psychological life in his city. Victorian sciences—particularly the work of George Henry Lewes and Charles Darwin—were turning to "net-work" to describe the plastic processes underpinning biological life. Dickens's fiction used the same dynamic potential of network form to put in motion the mechanisms of social life. Taking a novel form traditionally organized around the story of a self, Dickens used serial publication to incorporate variety, change, and new combinations of radically heterogeneous characters into each new installment, turning novel form into an ongoing formation. The resulting model of character psychology is one that replaces interiority with interaction and individuated desire with physiological affect.​
---
Coming soon:
​
Invited speaker, "Seriality" Plenary, Interdisciplinary Nineteenth Century Studies Conference, San Francisco, March 2018
"Carry Through, Take Up, Hold Over: Choreographing Characters in Dickens's Working Notes," North American Victorian Studies Association (NAVSA) Conference, Banff Centre for the Arts, Alberta, Canada, November 2017.
Recent:
Conference Paper: "Uncontainable Bodies: Forming Texts and Selves from
Frankenstein
to
Dracula
," Interdisciplinary Nineteenth-Century Studies Conference (INCS), Muhlenberg College, PA, March 2017
Invited Talk: "Digital Dickens Notes: Form and Formation," Duquesne University Series on Digital Humanities in the 21st Century, March 2017.
Invited Talk: "Pattern and Process: Charles Dickens's Working Notes and Serial Form," University of Pittsburgh Department of English, December 2016
Conference Paper:
"George Eliot's Social Psychology: Objectivity, Subjectivity, and Narrative," North American Victorian Studies Association (NAVSA) Conference, Arizona State University, November 2016.
Conference Paper:
"'That incongruous compound': Francis Galton's Composites and Fin de Siècle Novel Form," Victorians Institute Conference, North Carolina State University, October 2016.
Seminar organizer and presenter: "Serial Forms" seminar. Paper: "How We Read Novel Form: Victorian Seriality, Form, and Formation," American Comparative Literature Conference (ACLA), Harvard University, March 2016.
Conference Paper:
"Forming Towards Form in the Victorian Novel," Interdisciplinary Nineteenth Century Studies Conference (INCS), Appalachian State University, March 2016.
Conference Paper:
"Dickens's Serial Formation," Interdisciplinary Nineteenth Century Studies Conference, Georgia Institute of Technology, April 2015.
Invited Talk: "The Digital Dickens Notes Project," Digital Humanities Sandbox Chat Series, Duke University, March 2015.
Conference Paper:
​"Pattern and Process: Seriality in Dickens's Working Notes and the Digital Dickens Notes Project," North American Victorian Studies Association Conference, Western University, Canada, November 2014.